---
Posted by Boyka Mihaylova on
Today, we invite He Jin - a local producer of Tibetan black tea, and our proud supplier - for a chat. She will teach us on the various types of this chinese fermented tea, and will share tips and tricks on storage and brewing methods in order to get the most out of this artisan tea.
He Jin lives in Ya'an city, where she's been engaged in Tibetan tea production for quite a few years now. She creates fine-quality Yaxi Tibetan tea in loose-leaf form and the region's signature Tibetan Jasmine tea. (Read more)
---
Posted by Boyka Mihaylova on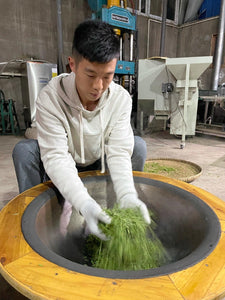 In this chapter of "Tea with friends: the story of..." we sit down to chat with Vincent Liu. A startup entrepreneur, Vincent has returned from the US, where he finished his education, back to his roots in China to follow his newfound passion for Chinese tea. 

During the process, he managed to tour several famous tea-producing regions, introduce local artisan teas to the public, and create the world's first tea app! (Read more)
---
Posted by Boyka Mihaylova on
Today we sit down to chat with Vera from the Netherlands. A female entrepreneur, globetrotter, and avid tea lover, Vera has spent her last five years living in Yunnan after cycling half the globe to get there!
Let's dive into the story and follow her on her ongoing journey on the path of tea. (Read more)