---
Posted by Boyka Mihaylova on
In this blog post, we continue our exploration of non-native Chinese teas produced in Asia.
Our destination is Laos - a country on the crossroad between China (more specifically, Yunnan), Vietnam, and Burma, among others. Nestled in the area known as the cradle of tea origin, Laos is a country with ancient tea heritage, pristine forests, and age-old tea trees. Let's explore its merits and discover the Laos tea that increasingly draws the interest of tea drinkers by the year. (Read More)
---
Posted by Angelina Kurganska on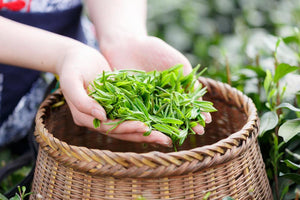 When buying
loose leaf tea
, many tea enthusiasts wish to go the extra mile and ensure they purchase
organic tea
. Of course, this means that farmers don't use pesticides or chemicals at the tea farmers. Thus, the tea leaves are clean and pure. It's a great practice to buy certified organic teas. Still, we wish to shine a light on the world of quality tea — many teas are fully organic, even if they aren't officially certified as such. In fact, this happens more than you think! 
(Read more)