---
Posted by Boyka Mihaylova on
In this blog post, we continue our exploration of non-native Chinese teas produced in Asia.
Our destination is Laos - a country on the crossroad between China (more specifically, Yunnan), Vietnam, and Burma, among others. Nestled in the area known as the cradle of tea origin, Laos is a country with ancient tea heritage, pristine forests, and age-old tea trees. Let's explore its merits and discover the Laos tea that increasingly draws the interest of tea drinkers by the year. (Read More)
---
Posted by Boyka Mihaylova on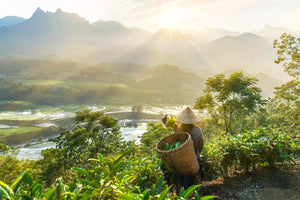 We continue our subject on Chinese teas produced in Asia, with Vietnamese tea, specifically Pu-erh tea produced in Vietnam.
We know Pu-erh tea is a type of Chinese fermented tea originating from the Yunnan province. Yunnan has a millennium-long history with tea, which has exerted a profound influence on China's neighboring countries, Vietnam in particular. Not to mention, the geographical and administrative boundaries in the region were not the same as they are today. So, let's explore the culture and legacy of Vietnamese tea, with a focus on Vietnamese Pu-erh tea. (Read More)
---
Posted by Boyka Mihaylova on
Tea has been a staple in Asian culture for centuries, with various types and flavors that vary from region to region. The popularity of Chinese tea has long outgrown its borders as entrepreneurs introduced tea seeds and plants to other Asian countries. That led to the production of Chinese tea types in other countries.
In today's blog post, we'll explore some of the most popular varieties of Asian tea produced in some of China's neighboring countries. We'll explore the production specifics that vary by each country, and some teas with unique profiles, that stemmed from these bold experiments. We can even offer you some of them in our tea store, too, so make yourself a cuppa and let's dive in! (
Read More
)