---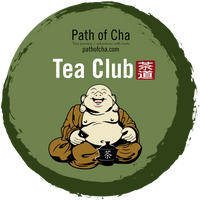 Become a member of our Tea Club, and your cup will never be half-empty!

Once a month (or once every two months – you choose), you'll be receiving four different teas (25g each) that we will pick for you, 100g in total.
It may be a mix of different types of tea: White, Green, Oolong, Red, Pu-erh (oops, that's already five;) Or it could be a mix of two and two, or one and three, or three and one (depends on how you look at it!:). Even Yellow Tea can get into the mix! – We'll introduce you to what we find worth your attention, including, of course, our new arrivals.
For those who don't drink so much tea, we also have the "Lightweight" option: once a month, two teas instead of four, 25 grams each, 50g in total.
Tea Club membership is a perfect way to stay excited by tasting various teas and discovering new favorites.

With the Tea Club, there is no need to remember to re-order to keep your tea jars from running empty. Besides, this way, you'll be saving money compared to buying four teas a month without the membership. 

Let's start discovering them, teas! Give teas a try, we say!
Excellent High Quality Tea
I highly recommend Path of Cha Tea Club! The teas that I received are high quality and wonderful to enjoy. I began taking time to enjoy the tea with prayer a few times a week and it has been very therapeutic for me. I really love the variety as well! No more grocery store chemical-laden tea full of additives. These teas from Path of Cha are the real deal.
Additionally, Customer service wonderful.
Love it
I absolutely love the subscription. It relieves me of my indecision and gives me a little surprise. My only wish is that there was either a choice to get them less frequently, or a smaller amount. I've found that I'm not always consistent with how fast I go through my tea, so being able to get a smaller subscription or the same amount less often would be a benefit to me.
Done:)
Thank you for the feedback!
Now you can choose between monthly and bi-monthly subscription.
Enjoy the teas:)
谢天谢地 FINALLY
I love most of the teas here, but at times it is difficult to choose which one to order. But since the tea Club subscription came out, the element of surprise came through. The teas thus far that have been chosen for the month feels like teas specifically chosen for me. Also, it is financially better if you don't want to spend over $100 for teas—which to be honest I don't mind doing. All in all, when the tea Club Subscription came out I couldn't have been any more excited for it and so far I have no regrets. So if you're thinking on about joining... Do it. Do it now!