---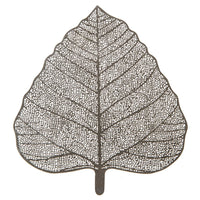 Introducing the Stainless Steel Bodhi Tree Tea Straine – a compact and durable teaware crafted to serve you at home or to accompany you on your tea adventures during trips, hikes, and outdoor activities.

Designed with practicality in mind, this exquisite tea strainer is made from high-quality stainless steel. Its fine mesh effectively filters tea leaves and particles, delivering a clear and flavorful brew.

Embrace the simplicity and elegance of this tea strainer, embodying the spirit of the Bodhi Tree – a symbol of enlightenment and wisdom. With every steep, the Stainless Steel Bodhi Tree Tea Strainer elevates your tea experience, reminding you to appreciate the joys of life.

If you embark on a journey, the Stainless Steel Bodhi Tree Tea Strainer will be your trusty companion, ensuring you can savor the art of Gong Fu Cha even in the great outdoors. Its compact size fits snugly in your travel bag or backpack, making it the perfect teaware for on-the-go tea sessions. Feel the connection to nature as you brew your favorite tea using this versatile strainer. Its sturdy construction and durability withstand the rigors of travel, allowing you to enjoy tea moments amidst the serene beauty of nature.

As you pour the infused tea through this reliable strainer, let the stainless steel mesh work its magic, capturing the essence of the tea leaves while keeping unwanted particles at bay. The Stainless Steel Bodhi Tree Tea Strainer ensures that every cup is a true representation of Gong Fu Cha's precision and attention to detail.

Whether you're sipping tea by a campfire or taking a moment to relax at home, this small piece of teaware brings the art of tea closer to nature.

Handcrafted with care, this Bodhi Tree Tea Strainer embodies the perfect blend of functionality and portability. Its seamless design exudes elegance and simplicity, adding a touch of refinement to your tea rituals.

Take the spirit of Gong Fu Cha with you wherever you go, and allow the Stainless Steel Bodhi Tree Tea Strainer to become a symbol of your tea journey. As you steep and sip, let the beauty of nature inspire your soul, making every outdoor tea experience a cherished memory.

Material: Stainless Steel

Dimensions: 4.1 x 4.5 in / 10.5 x 11.5 cm

Weight: 5.5g